The Festival of the artichoke of Montelupone is a traditional event which, since 1961, is organized every year on the first (or second) weekend of May. It attracts thousands of visitors from all over the region, attracted by the tasty offer of gastronomic delicacies and by the folklore of a party that is always highly appreciated.
The goal of the festival is to enhance one of the typical products, a symbol of the town of Montelupone. We remind you that the Montelupone artichoke has been awarded the DE.C.O (municipal denomination of origin - RES Tipica) brand and recently the Slow Food brand. The product is eaten fresh or possibly preserved in oil according to traditional home recipes (which you can find here).
Ricco il programma degli eventi per il weekend, che ogni anno prevede un susseguirsi di spettacoli musicali. Gli stands gastronomici propongono una gran varietà di piatti a base di Carciofo di Montelupone che vanno, dagli antipasti, ai primi, ai secondi e persino dolci e gelato.
The festival takes place in the historic center of Montelupone, in this page you can get directions on how to get there.
L'associazione Proloco di Montelupone ha annunciato che la 60ª edizione della Sagra del Carciofo si svolgerà nelle date del 13 e 14 maggio 2023.
Di seguito il programma: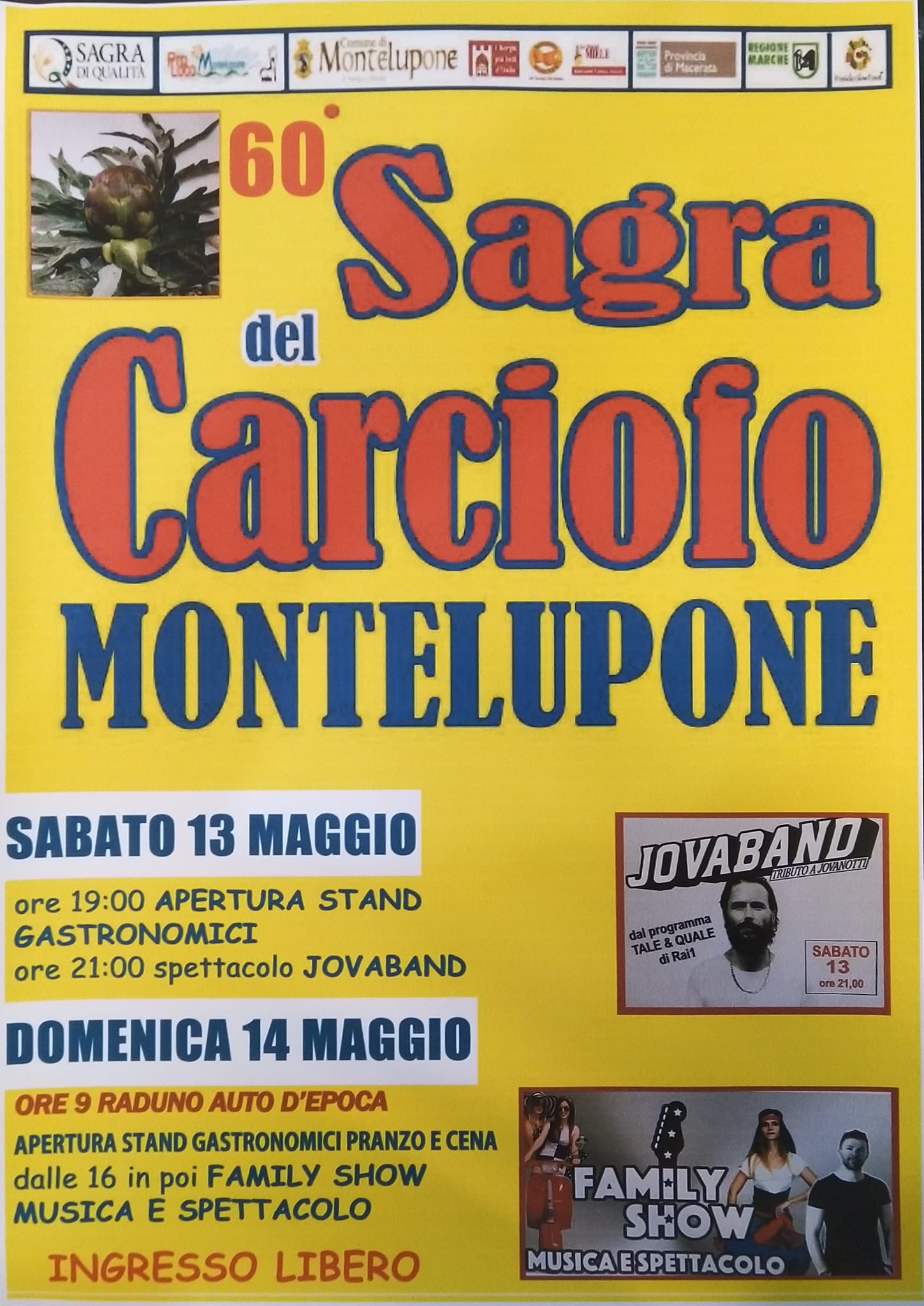 Durante la sagra è possibile acquistare il carciofo fresco direttamente dai produttori locali.
Venite a trovarci in sede per acquistare il vero Carciofo di Montelupone biologico; le indicazioni per raggiungerci sono di seguito (Carciofaia Agostini – Via Alighieri 14 – Montelupone).
More information can be found in the Facebook page Proloco Montelupone.