Montelupone (MC)
Montelupone is an Italian town of 3,577 inhabitants in the province of Macerata in the Marche region. One of the most beautiful villages in Italy and Orange Flag of the Italian Touring Club.
The territory develops in the hills at an altitude of m. 272 above sea level, with an area of 34 sq km.
La distanza dal mare è di 12 km, da Macerata (capoluogo di provincia) di 13 km, da Loreto di 18 Km, da Recanati di 9 Km e da Ancona (capoluogo di regione) di 48 km.
The ZIP Code is 62010.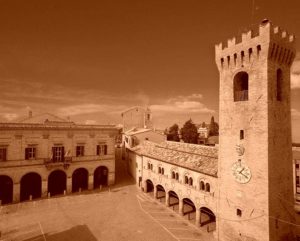 How to reach the country:
By car for those coming from the Adriatic coast via the A14 motorway, from the north exit "Loreto - Porto Recanati" or from the south exit "Civitanova Marche"; while for those coming from the hinterland along the Val di Chienti highway, exit "Morrovalle - M.S.Giusto".
By train the railway station of destination is the one called "Porto Potenza Picena - Montelupone".
For those who travel by plane,the "Raffaello Sanzio" airport of Ancona Falconara is the closest to the town.
See also:
More information from the Wikipedia
The official site of the Municipality of Montelupone
Information from the site Borghitalia