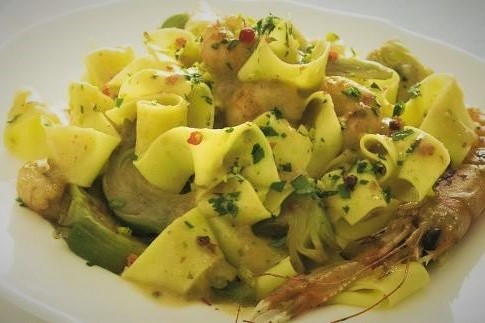 The pappardelle prawns and artichokes are a special recipe, a combination of sea and mountains that recalls the freshness of spring.
Ingredients
Artichokes of Montelupone
extra virgin olive oil;
carrot;
onion;
scampi;
parsley;
wine;
salt;
butter;
flour;
garlic;
pappardelle
Preparation time
30 minutes
Difficulty
Medium
Method
Tagliate a dadini la carota e tritate la cipolla, rosolatele in pentola con 3 cucchiai di olio extravergine di oliva e unite le teste degli scampi. Successivamente aggiungete un rametto di prezzemolo, il vino, e cuocete per 15 minuti. Passate il tutto al passaverdura, comprese le teste degli scampi schiacciate; mettete in casseruola, salate e scaldate dolcemente. Mescolatevi poi 20 g di burro morbido impastato con la farina e cuocete ancora 5 minuti. Sbollentate i Carciofi di Montelupone a spicchi per 3 minuti. Rosolate le code degli scampi con l'aglio e il burro rimasto, unite i carciofi e regolate di sale. Lessate le pappardelle, scolatele e conditele con gli ingredienti preparati; cospargete con prezzemolo tritato.
Conservation
In frigo un giorno.
Tips
If you like, you can add and decorate the dish with chopped orange peel.