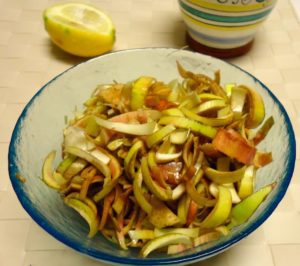 Artichokes salad: a purifying spring recipe.
Ingredients
Fresh artichoke of Montelupone
lemon;
extra virgin olive oil;
parmesan;
salt;
balsamic vinegar;
walnuts
Preparation time
5 minutes
Difficulty
Low
Method
Clean the artichokes by removing the outer leaves and the stem and immerse them immediately in water and lemon for a few minutes. Remove them from the water and cut them into very thin slices. Season the artichokes with extra virgin olive oil, balsamic vinegar and a pinch of salt. Add the flaky Parmesan and the crumbled walnuts to taste.
Conservation
In the fridge for a maximum of two days.
Tips
Wet your hands with lemon juice or use gloves to avoid blackening your skin.