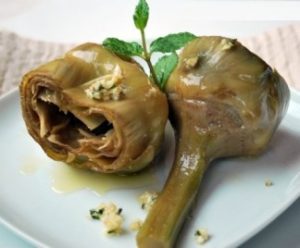 On this page is described the recipe of the famous Artichokes alla Romana, cooked whole in a pan, as tradition dictates.
Ingredients
Artichoke of Montelupone
mint;
salt;
pepper;
extra virgin olive oil;
white wine;
garlic.
Preparation time
60 minutes
Difficulty
Medium
Method
Pulite i carciofi lasciandoli interi e mantenendo il gambo. Allargate le foglie per creare un po' di spazio tra di esse ed inseriteci un impasto di pane grattugiato, sale, aglio, mentuccia e pepe. Una volta riempite le fessure, mettete i carciofi in pentola rivolti verso il basso ed aggiungete 3 mestoli d'acqua calda, mezzo bicchiere d'olio extravergine di oliva e mezzo bicchiere di vino bianco (se la pentola ha un diametro molto esteso aggiungete altra acqua, altro olio e altro vino: il liquido deve superare la metà del carciofo ed arrivare all'incirca alla base del gambo). Cuocete a fuoco lento per 40 minuti mantenendo la pentola coperta, se il liquido si consuma e i carciofi non sono ancora cotti aggiungetene altro.
Conservation
In the fridge two days.
Tips
The flavor of the dish can vary considerably based on the smells and spices inserted. In addition to the mint, you can try mint, parsley, thyme or marjoram.
Interesting this video guide by Giallo Zafferano that explain the process.
Enjoy your meal!