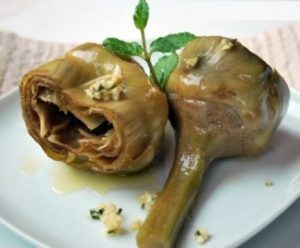 On this page is described the recipe of the famous Artichokes alla Romana, cooked whole in a pan, as tradition dictates.
Ingredients
Artichoke of Montelupone
mint;
salt;
pepper;
extra virgin olive oil;
white wine;
garlic.
Preparation time
60 minutes
Difficulty
Medium
Method
Clean the artichokes leaving them whole and keeping the stem. Spread the leaves to create some space between them and insert a mixture of breadcrumbs, salt, garlic, mint and pepper. Once the cracks are filled, put the artichokes in a pan facing downwards and add 3 ladles of hot water, half a glass of extra virgin olive oil and half a glass of white wine (if the pot has a very large diameter, add more water , other oil and other wine: the liquid must exceed half of the artichoke and arrive approximately at the base of the stem). Cook on a low heat for 40 minutes keeping the pan covered, if the liquid is consumed and the artichokes are not yet cooked add more.
Conservation
In the fridge two days.
Tips
The flavor of the dish can vary considerably based on the smells and spices inserted. In addition to the mint, you can try mint, parsley, thyme or marjoram.
Interesting this video guide by Giallo Zafferano that explain the process.
Enjoy your meal!