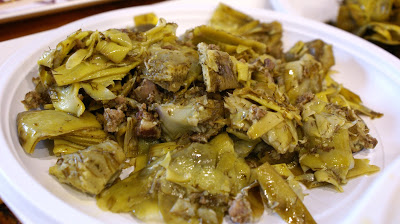 The Porchetta artichokes are a traditional dish of Montelupone.
Ingredients
Freshly picked artichokes of Montelupone
Fava beans;
fresh wild fennel;
minced meat;
white wine;
salt;
garlic;
chili pepper;
lemon;
extra virgin olive oil.
Preparation time
40 minutes
Difficulty
Medium
Method
Pulite le fave, pulite i carciofi e immergeteli nell'acqua acidulata col succo di limone. Versate in una pentola l'olio e l'aglio, fate colorire appena, poi unite i carciofi, il prezzemolo, il finocchietto e la carne macinata. Salate e fate saltare, unite il vino, fate sfumare e lasciate cuocere per 15 minuti circa. Quindi unite le fave e mezzo bicchiere di acqua calda, coprite la pentola e portate a cottura. Servite con un filo di olio extravergine di oliva.
Conservation
In the fridge two days.
Tips
Enjoy your meal!