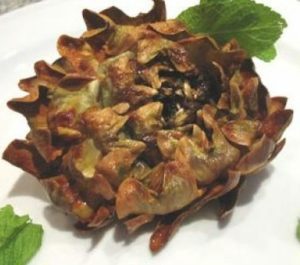 The Giudia artichokes are a dish of the Roman-Jewish culinary tradition, handed down for generations up to the present times.
Ingredients
Artichokes of Montelupone
extra virgin olive oil;
salt;
pepper.
Preparation time
30 minutes
Difficulty
Medium
Method
After removing the external leaves and cleaning the stem (left 5 centimeters long), slightly widen the leaves of the artichoke and dip the same upside down in a pot with hot extra virgin olive oil until it becomes golden and crisp. Drain and season with a pinch of salt and pepper.
Conservation
In the fridge two days.
Tips
If you love the crunchiness of the leaves, you can fry the brim of the artichoke a second time for a few minutes.