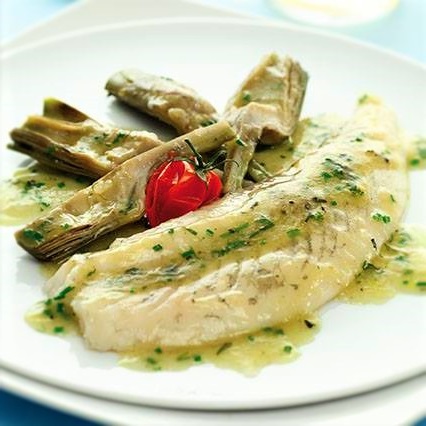 The recipe of the Turbot and artichokes is highly appreciated as it combines the delicate flavor of artichokes with that of fish.
Ingredients
Artichokes of Montelupone
lemon;
extra virgin olive oil;
fish soup;
salt;
pepper;
clove;
turbot;
Cherry tomatoes;
mint.
Preparation time
30 minutes
Difficulty
Medium
Method
To make a good dish we start by cleaning the Montelupone artichokes. We cut them into wedges and sprinkle them with fresh lemon juice (or possibly dip them in water and lemon).
In the pot, heat the extra virgin olive oil then add the artichokes, two tablespoons of fish broth, salt, pepper and a clove. When the artichokes are half cooked, add the fish fillets and sprinkle with fish broth (or cooking water). Serve and garnish with mint leaves and cherry tomatoes.
Conservation
In the fridge two days.
Tips
Enjoy your meal!